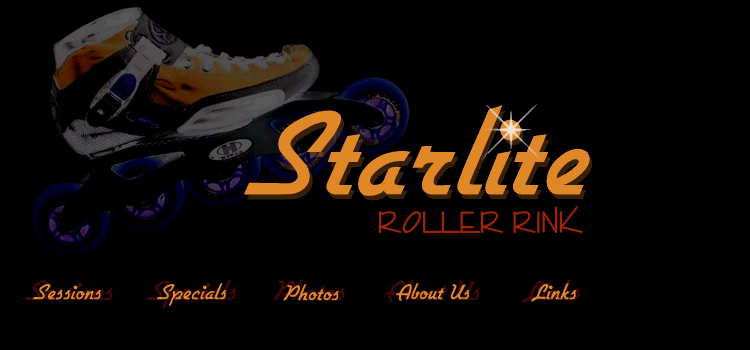 The following articles and photos from Canton newspapers in 1971 were contributed by Will Sullivan.
If you have something to add to our small collection, please email Emily...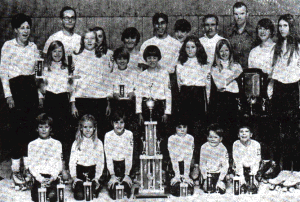 Skateland Speed team - Canton, OH
FRONT ROW (left to right) - Richard Gorman, Jean Sommers, Cheryl Cottrell, Vickie Sommers, Dennis McFarland, David Cottrell;
MIDDLE ROW - Donna McFarland, Jimmy Lee Streby, Don Sommers, Terry Cottrell, Tracey Sommers, Diane McFarland;
BACK ROW - Mary Todd, Mickey Sullivan, Skateland owner and team coach, Debbie Rydbom, Tim Cottrell, Tony Zahm, Don Sanford,
Tom Sommers, Walt McFarland, Larry Bowman, assistant coach, and Gloria Admire. Also on the team were Marvin Cottrell and Shirley Sommers.






Canton Skaters Roll Past Their Opponents
By Ross Graber
The Canton Speed Team, operating out of Skateland Roller Rink, is literally rolleing by opposition as evidenced by its victory at North Canton last week. Paced by young Tim Cottrell, a rollerskater of much prowess, the Canton squad whipped invaders from seven states, ranging from as far away as Florida, at the meet.
Racking up 30 points for an individual first place, 20 for second and 10 for third, the team had over 600 points. Their closest foe, from Clawson, Michigan, had less than 450, a typical lopsided victory for Canton according to Mickey Sullivan, team coach and Skateland owner. The team is little more than one year old and was organized chiefly by Sullivan, a professional skater. The team is accepting new members. If a prospective skater wishes to race, but has limited experience on skates, he can enter beginner's classes. After about a year of practice, he may transcend the novice tanks and join the team.
According to Sullivan, the speed skating competition is growing in populatiry across the nation as a family participation sport. So far, the families of Marvin Cottrell and Tom Sommers have contributed 11 of the 24 members on the Canton squad. The Cottrells, headed by father Marvin, are seemingly the terrors of the tracks. In the North Canton meet, all five family members placed. And, of course, from the Cottrell family comes Tim, marvel of the sport who won four firsts and one third in North Canton. Tim, 14, was also the leading local skater in last year's national racing meet at Lincoln, Nebraska, finishing third. His dad made the semi-finals before succumbing.
Others from Canton making the national finals were Tom, Jean, and Vickie Sommers, Jim Streby and Diane McFarland, supporting Sullivan's claim that "the team is really strong." The Canton squad also sports an ace trio of Marvin and Tim Cottrell and Tom Sommers which swings in the 10-mile relay races. At North Canton, they triumphed after lapping the field one-and-a-half times. Individual skating competition is divided into age categories with racing ranging from one lap for the youngest to 80 laps (five miles) in the men's division which starts at age 14. Twenty-five teams in Ohio provide competition for the Canton squad. They also make jaunts out of the state as in a few weeks when they will travel to Michigan.
Sullivan explained that the skaters must compete in at least three races in each emet. The men have 440 and 800-yard and one-, two- and five-mile events. Besides the North Canton victory this season, the Canton squad won a similar meeting three weeks ago in Cincinnati. "So far we've beaten every team in the state," noted Sullivan. "And last week we had 43 entries at North Canton and we brought home 43 trophies. The competition at these meets is really tough, too," he said. "There are a lot of national champions, the best skaters in the country, that enter them."
The Canton team ranks included skaters from 3 to 40 years of age. They come from Canton, Kent, Mogadore and Akron. Sullivan said if anyone is interested in joining the team, they should attend one of the three weekly practice meetings. They are held before the Wednesday evening practice and after the Friday evening and Sunday afternoon sessions.








Four City Skaters Go Into Finals
LINCOLN, Neb. - Four entries from Canton Skateland in Canton, Ohio qualified Tuesday for the finals of the National Roller Skating Championships being held here at Pershing Auditorium. Cheryl Correll qualified for the girls 13-14 880-yard race, while she and Donna McFarland teamed up to win their heat in the two-girl relay. Jim Ross qualified for the 440 and mile race in the boys 15-16-year-old division. Four more entries from Canton Skateland will race preliminary heats today, with the finals in all events set for Thursday.


Canton's 6 Skaters Fare Well
LINCOLN, Neb. - Coming within one second of a national record, the freshman four-girl mile relay entry from Canton, Ohio Skateland placed first in a qualifying heat Wednesday at the National Roller Skating Championships being held here at Pershing Auditorium. Qualifying for today's relay f inals were Diane and Donna McFarland, Cheryl Cottrell and Cathy France. Their time was 3:05.8. In the finals of the 880-yard race Wednesday, Cottrell placed second, giving her 20 points toward the overall individual championship among freshman girls. Canton Skateland has six entries facing f inals competition today in the conclusion of the championships.

Canton Skaters Win National-Event Titles
LINCOLN, Neb. - There will be four tired but rightfully proud girls returning to Canton, Ohio late tonight - more like early Saturday morning. They will be carting championship awards won Thursday night in the windup of the week-long national speed roller skating competition. Canton Skateland teammates Donna McFarland and Cheryl Cottrell zipped to the two-girl freshman national relay title in 4:03 as they covered a mile against great odds. They were seventh off the start in the two-girl event and joined Diane McFarland, Donna's twin sister, and Kathy France to take the freshman four-girl title - with another stirring comeback. The Canton skaters were lodged in fifth place at one point of the one-mile race but they rallied to win in 3:05.8. "It's always more exciting when they come from behind to win," bubbled Canton Skateland coach Walt McFarland. "But, it certainly is nerve-racking when the race is going on." Asked about the club's immediate plans, McFarland laughed, "Rest! The team will take it easy for about a month and begin to prepare for next season." The club's 10-month competitive campaign will begin with an invitational around Thanksgiving - and hopefully end with additional national winners next July and August.